THE JOURNEY TO DATE
Since 1998, we have grown into one of the largest consumer marketing and multi-unit retail operators in Vietnam, to play a significant part in improving the quality of life for Vietnam's rising middle class.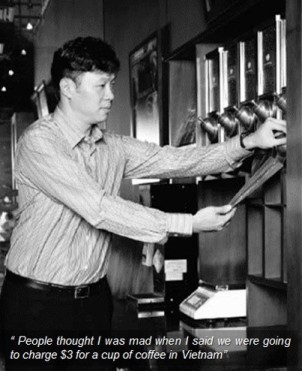 HOW IT BEGAN
In 1995, twenty two year old David Thai returns to his homeland after growing up in Seattle, USA. Harnessing his passion for gourmet coffee, David envisioned a brand that could blend the rich traditions of Vietnamese coffee culture with an International, modern approach. Highlands coffee was born out of this vision and in 2000 commenced business with premium roasted & ground packaged coffee, followed by the launch of its branded coffee shops from 2002. With Highlands as the platform of growth, VTI is now reaching nearly 200 retails outlets across its portfolio of brands.
"People thought I was mad when I said we were going to charge $3 for a cup of coffee in Vietnam" – David Thai
COMPANY INTRODUCTION
Viet Thai International Joint Stock Company® (VTI) provides a dynamic and challenge work environment with tremendous opportunities for professional as well as personal growth. Viet Thai International JSC (VTI) was established in 1998 and today has grown into one of the largest consumer marketing and multi-unit retail operators in Vietnam
Viet Thai International Joint Stock Company® is committed to "bring the best of Vietnam to the world, and the best of the world to Vietnam."
We do this proudly! We strive to prove that a Vietnamese company can be great both locally and internationally…as our family of brands.
Highlands Coffee® was born out of the pure passion for Vietnamese coffee. At Highlands Coffee®, our customers will be serving our phin made Vietnamese coffees with delicious, amazing full-favored coffee in comfortable environment and good value for money. Nevertheless, packaged Highlands Coffee beans and RTD (ready-to-drink) coffee are selling at outlets; offer the highest quality coffee to our customers. While aggressively growing in Vietnam, Highlands has also expanded into our first International market
It was recently selected #30 in the "Top 100 Employers of Choice" in Vietnam by CareerBuilder.
Our new design PHO24® fast casual dining shops serve Vietnam's favorite comfort food, authentic, steaming hot, tasty and aromatic pho, not only in Vietnam where we are growing, but in four, and soon to be, five other countries.
Our Hard Rock Cafe® in HCMC just won the global "Top of the Rock", best in the world prize, the second time in 4 years. And we also have Hard Rock Cafes in Macao and Hong Kong.
Our ALDO® fashion shoe outlet recently won the International Top "Partner of the Year" award over all ALDO Franchisees worldwide.
Our Swarovski® jewelry shops are favorites with fashionistas all over Vietnam.
And we have a Thai Kien®, a Distribution Center serves over 15,000 outlets in Core Cities around Vietnam.
Our newest business, My Mart®, is Vietnam's answer to foreign owned convenience stores.
VTI at a glance